Located at the Inn and Spa at Lorettto in Santa fe, New Mexico. We offer a unique varity in Fine Jewlery and Arts from local Artist and Artist from all over the World.
JAMAL SULIMN
Jamal Sulimn is part owner and Artist who loves the finer things in life and is proud to share some of his work in Santa fe, NM.
Jamal is also owner of Diva Diamond in Amman, Jordan where his work is also on display.
Diva Diamond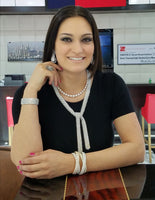 Genevieve Maldonado
Genevieve has been in industry for over 19 years and has accelerated in her career and is excited to open and bring Santa fe, NM a vareity of fine Jewelry and fine Arts.
GENEVIEVE MALDONADO AND ALGIN MENDEZ
Genevieve and Algin have both teamed up with Jamal to provide Santa fe with a unique and diverse quality of fine Jewelry and Arts
Gallery